March 31st: Raven & Her Sweet Potato Pie Band + Katy Going Away Party!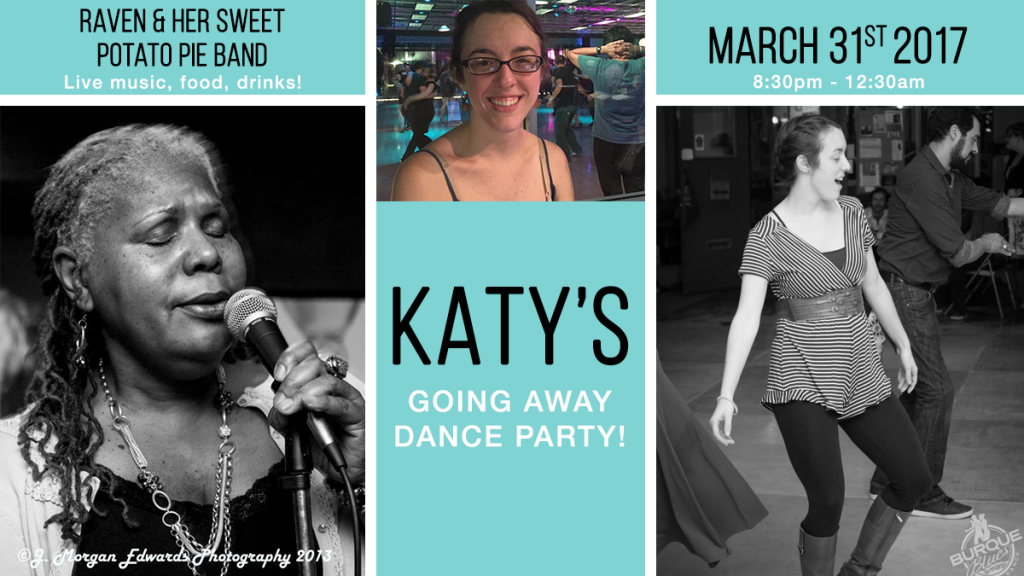 Our beloved Katy is moving out of NM. Katy has done everything under the sun over the past 4 years for Burque Blues: beautiful photos, custom artwork (she made that outdoor sign!), teaching, DJ'ing, organizing, and keeping (trying to!) me halfway sane.
Let's show her how much we love and appreciate all that she has done for this Bluesdance community by making March 31st a magical night to remember! So dress up (we will have a photog all night!), bring all your friends, and get ready to party!
LIVE Band: The amazing Raven & Her Sweet Potato Pie Band + Friends! We also have Ebony Booth and Sina-Aurelia Pleasant Soul-Bowe joining Raven!
$10 for for the entire night: Lesson, Live Music, Homemade Food, and Drinks!
Lesson @ 8:30PM – Dancing @ 9:30PM (tip: get there early and park easily.
DJ Sean will keep you dancing during the band breaks.
Join our FB Event and hit that GOING button, invite your friends, and let's party!
DISCOUNTS: Want to save more money? Volunteer! We are always looking for motivated and community-minded individuals to join our team! Not only do you get to help build your Blues dance scene, but you also get the lesson and dance for FREE.
Exact change is very helpful. We also accept credit cards!
Additional information:
No partner necessary, all ages welcome
Wear comfortable shoes (we recommend smooth soles)
Important: Burque Blues is dedicated to providing a harassment-free and safe social dance experience for everyone regardless of dance ability, dance background, gender, gender identity and expression, sexual orientation, disability, physical appearance, body size, race, age, religion or any other characteristic or trait. We do not tolerate harassment in any form. Individuals violating these rules may be sanctioned or expelled from the venue at the discretion of the host(s).
NOTE: Please bring dance shoes to your Blues dance. If you do not have dance shoes, please use the brush under the benches and remove the tiny rocks and other grit from your shoes when you walk in. Please ask me if you need sources for dance shoes! You can also dance in socks or barefoot as well 🙂 thank you!