Bluesoween 4th Annual! LIVE Music + Benefit!
LIVE Music! Contests! And, Benefit!
Friday October 28th @ 8:30PM!
Our 4th Annual Bluesoween is upon us. We have the Joe Daddy Blues Band playing music you can Blues and Swing to! We also have a costume contest and our dance competition -with a twist- is back! More importantly, this is also a benefit.
100% of profits will be donated to families affected by Hurricane Matthew in Haiti via Families2Families Haiti. This organization, based in Albuquerque, is bringing water purification and other necessities to affected families. More info. can be found here.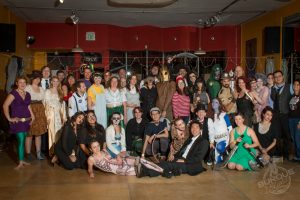 PRO TIP: Arrive EARLY! Costume contest judging starts during the first hour of the dance! Lesson also begins at 8:30PM and is included with your admission! Also, costumes are encouraged, but not required! Please come out and have fun! 🙂
Dance competition is back! Can anyone best Carolyn from last year?!
There will also be yummy treats on hand!
All ages affair! Lots of fun dancing to be had all night!
WHAT TO DO:
Click JOIN and encourage your friends to do the same! We need all of your support! 🙂
WHAT YOU NEED TO KNOW:
Lesson starts at 8:30PM
Dancing starts at 9:30PM
Cost:
Only 10! – This includes admission to both the dance and lesson, AND, all profits will be going towards a good cause! And if you have a few bucks extra to donate, please do so ♥