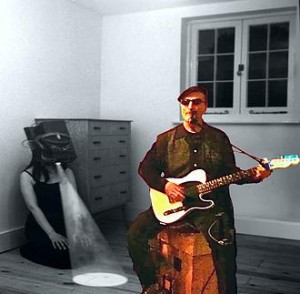 Joe "Daddy" Warner
Before moving to New Mexico, Joe 'Daddy' Warner honed his blues sound in Central Mexico where he lived for seven years.
Joe had begun his musical journey on the West Coast in California playing on the streets and boardwalks of Venice Beach. Joe graduated from the streets to backing notable blues performers that include, Snooky Pryor, Big Joe Duskin, Kim Wilson, Junior Watson, Mitch Kasmar, Bonnie Raitt and his mentors Buddy Smith and Bobby Kapp.
After leaving Mexico, Joe met 'Hoodoo' Jeff Sipe at a blues jam in Albuquerque, NM. Their common interest in swamp, delta, folk blues, swing, myth and folk art made for a natural alliance. The two co-founded, 'Joe Daddy & Hoodoo Jeff.' A stripped down swamp duo that relied solely on Joe's vocals and swampy guitar style over Jeff's unique bass lines and foot percussion by both.
Shortly after the duo added harmonica player, Brian 'Doc' Boggs, a descendent of Appalachian musical heritage to the mix. And the duo now a trio became, 'Joe Daddy's Swamp Kings.'
In 2014, Joe also returned to his West Coast Blues roots by forming the 'Burque Blues Guild' a group of musicians dedicated the tradition of the American genre. Joe Daddy and the Guild's players host a traditional Blues jam every Tuesday in Albuquerque. From the guild Joe created his lastest incarnation, 'the Joe Daddy Blue Band.' Joe now performs weekly with the Guild, the Swamp Kings, the Blue Band and solo on ocassion as Joe Daddy Blue.